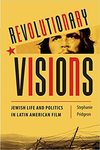 Title
Revolutionary Visions: Jewish Life and Politics in Latin American Film
Department or Program
Latin American Studies
Description
Revolutionary Visions examines recent cinematic depictions of Jewish involvement in 1960s and 1970s revolutionary movements in Latin America. In order to explore the topic, the book bridges critical theory on religion, politics, and hegemony from regional Latin American, national, and global perspectives. Placing these theories in dialogue with recent films, the author asks the following questions: How did revolutionary commitment change Jewish community and families in twentieth-century Latin America? How did Jews contribute to revolutionary causes, and what is the place of Jews in the legacies of revolutionary movements? How is film used to project self-representations of Jewish communities in the national project for a mainstream audience?
Jewish involvement in revolutionary movements is rife with contradictions. On the one hand, it was a natural progression of patterns of political participation, based on the ideological affinities shared between socialist movements and Marxist revolutionary politics. On the other hand, involvement in revolutionary politics would also upset the status quo of Jewish communities because of the extreme nature of revolutionary practices (e.g., guerrilla warfare), revolutionary groups' alignment with Palestine, and the assimilation into non-Jewish culture that revolutionary involvement often entailed. These contradictions between Jewish self-identification and revolutionary activity continue to confound cultural understandings of the points of contact between identities and political affinities. In this way, Revolutionary Visions contributes to timely debates within cultural studies surrounding identities and politics.
Publisher
University of Toronto Press
Recommended Citation
Pridgeon, Stephanie. 2020. Revolutionary Visions: Jewish Life and Politics in Latin American Film. Toronto: University of Toronto Press.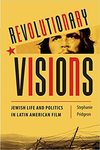 COinS