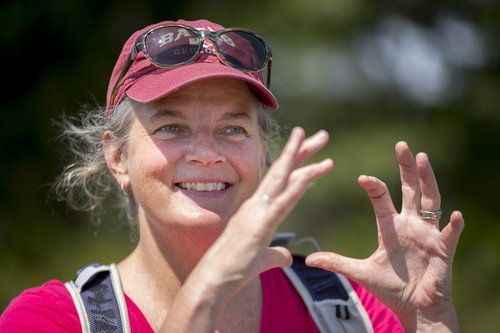 Charles A. Dana Professor of Earth and Climate Sciences
The Dana Professorship is the longest-standing endowed chair program at Bates. In 1966, the Charles A. Dana Foundation awarded the college a matching grant to establish an endowed professorship fund that would recognize exceptional teacher-scholars among the Bates faculty. Over nearly 60 years, a distinguished group of faculty has been honored with Dana professorships in recognition of their exemplary teaching, the value of their research, and their service to the college.
Beverly Johnson, Professor of Earth and Climate Sciences
Beverly Johnson arrived at Bates in 2001, and began a research and pedagogical program that has involved hundreds of Bates students. The central focus of her teaching is helping students understand environmental change on geologic timescales. She works collaboratively with students to understand significant systems of carbon sequestration in Maine. She also studies recent climate and environmental change. She received her PhD from the University of Colorado, Boulder developing a research program focused on the way that stable isotopes can tell important stories about the history of the earth and its inhabitants. She is an internationally recognized biogeochemist with collaborators around the world whose research has uncovered the role of human migration events in massive faunal extinctions using stable isotopes contained within ancient eggshells. She has studied how climates have changed through time, and has worked in many ecosystems of the globe.