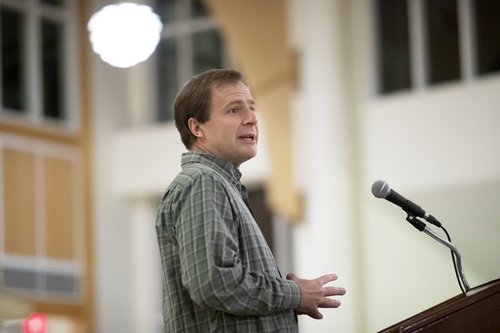 Dowling Family Professor of Economics
The Dowling Family Fund was established in 2016 to fund a professorship in the Department of Economics. It was established in honor of Porter R Dowling, Bates class of 2016, and will be awarded for the first time for the 2023-24 academic year.
Paul Shea, Professor of Economics
Paul Shea joined the faculty in 2012 after receiving his PhD from the University of Oregon in the field of macroeconomics. His courses include beginning, intermediate, and upper level macroeconomics as well as topical offerings such as "The Great Recession." His students routinely talk about their appreciation for the way he makes complex topics accessible to all. Professor Shea's scholarship uses economic modeling tools to understand topics that highlight a remarkable breadth of interest. He has published papers that have considered the use of dueling in the affairs of honor in the antebellum south, explored how wealth and perceived likelihoods of hell factor into religiosity, created models to predict the winners of tied games in the National Football League, and studied how adding additional information influences the ability of models to forecast events. His sustained professional achievements also involve many collaborations with scholars around the world.