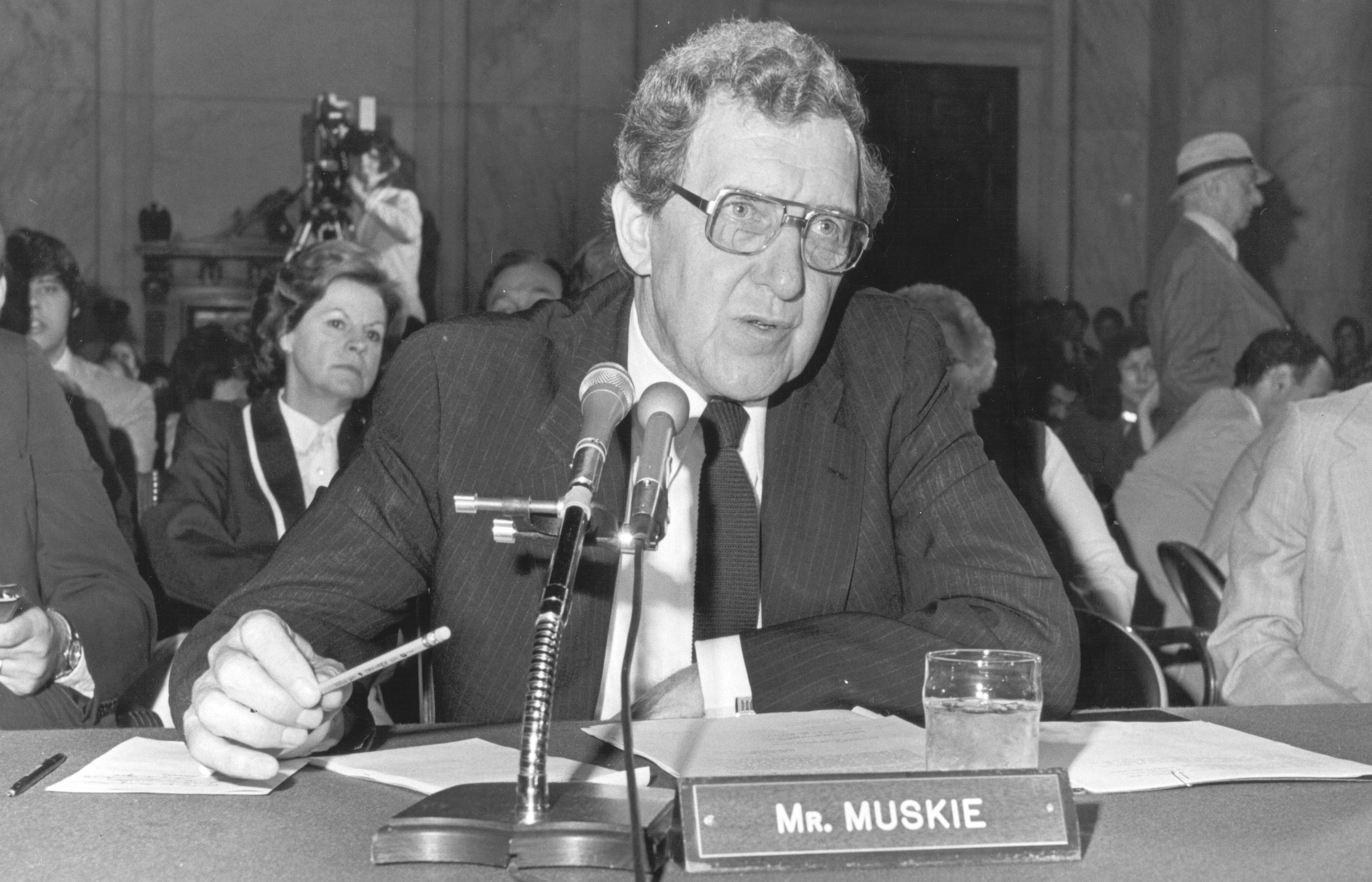 Document Type
Oral History
Publication Date
8-6-1991
Abstract
Frank Coffin
Frank Morey Coffin was born in Lewiston, Maine on July 11, 1919. His parents were Ruth [Morey] and Herbert Coffin, who divorced when Frank was twelve. Ruth raised Frank alone on Wood St. in Lewiston. She came from an active Democratic family, her father was Mayor of Lewiston from 1907 to 1912, and eventually she became a Democratic State Committeewoman. Frank graduated from the Lewiston public schools, and then went on to Bates College, graduating in 1940. While at Bates he debated under Brooks Quimby, and majored in economics. He then went off to Harvard to continue his education. He started in the Harvard Business School while waiting to be drafted. He served in the Navy Supply Corps, and after discharge returned to Harvard to get a law degree. He graduated in 1947. He then clerked for U.S. District Court Judge John Clifford Jr. before his admittance to the Maine Bar.
His law career began in a Lewiston office, and quickly grew. From 1951 to 1954 he served as Corporation Counsel to the City of Lewiston, and in 1953 he joined the law firm of Verrill Dana in Portland, Maine. At that time, he became interested in the Maine Democratic Party. Along with Lewiston area Democratic activists, he worked to reestablish the two-party system in Maine. He became Chairman of the Maine Democratic Party in 1954, and worked to field Democratic candidates for every major office for the 1954 ballot. He also created the first permanent staff position within the Maine Democratic Party.
His party building included writing a party platform using public input and surveys. These efforts led to the election of Edmund Muskie as Governor of Maine. In 1956, Coffin stepped down from the chairmanship to run for United States Congress. He was elected, and served from 1957 to 1960, when he stepped down to run for Governor of Maine. He was defeated in that race. After his elected service, Frank was to be appointed Ambassador to Panama by President John Kennedy. When Kennedy was assassinated, Lyndon Johnson refused to make the appointment because of disagreements he had with Frank during his Congressional career. He was appointed to the Organization for Economic Cooperation and Development in Paris in 1964. In 1965, President Johnson appointed Frank to the United States 1st District Court of Appeals. He became chief judge in 1972, serving in that capacity for eleven years. He became senior member in 1989.
Frank Coffin has received numerous awards and accolades, and is a highly regarded figure in Maine law and political circles. In 1942 he married a Bates graduate, Ruth Ulrich. They had four children.
Shep Lee
Shepard (Lifshitz) "Shep" Lee was born in Lewiston, Maine on November 13, 1926 to Ethel and Joe Lifshitz. His parents were both Russian immigrants, his mother a housewife, and his father an automobile dealer after the Depression. He attended the Lewiston Public Schools, graduating from Lewiston High School in 1943. He then went on to Bowdoin College, taking a break from college between 1945 and 1946 to enlist in the Navy. He returned to Bowdoin after his service, and graduated in 1947 with a degree in government and economics. At that time, he and his brother also changed their names to Lee to avoid discrimination against Jews in education and in careers. Lee returned to Lewiston after graduation, and went to work at his father=s automobile dealership. Soon after, he became active in Lewiston-Auburn Democratic politics. In 1956, he was campaign manager to Frank Coffin=s Congressional campaign. In 1963, he bought out his father=s partner in the automobile dealership, and eventually took over the entire business. Lee was an active Democrat during and after Ed Muskie=s career. He was a key fundraiser for the Maine Democrats, and loaned many vehicles to campaigning candidates over the course of his career. He retired from his automobile dealership in the late 1990s.
Don Nicoll
Donald Eugene "Don" Nicoll was born in Boston, Massachusetts, on August 4, 1927, and grew up in the West Roxbury section of the city. He is the son of George and Mary Nicoll. He attended Robert Gould Shaw Junior High School and Boston English High School and graduated from Colby College in Waterville, Maine in 1949, majoring in History with a minor in Government. Don met his future wife, Hilda Farnum, also a Colby student, when they worked in the resort town of Ocean Park, Maine, in the summer of 1944. Nicoll began his graduate work at Pennsylvania State College in 1949, where he received a teaching fellowship in the Department of History. His graduate studies concentrated on American history, specifically the period from the Revolutionary War to the Civil War .. His M.A. (1952) thesis was on the Alien and Sedition Acts.
Starting in 1951, Nicoll and his family settled in Buckfield, Maine where he picked apples and taught part time at Stephen's High School, located in Rumford. Nicoll began working as an announcer for WLAM radio in Lewiston, Maine. He became a reporter and then news editor for WLAM and WLAM-TV. In June 1954, Nicoll left WLAM to become Executive Secretary of the Democratic State Committee at the request of Frank M. Coffin, who has just become chairman.
Mr. Coffin was elected to the U.S. House of Representatives from Maine's Second Congressional District in 1956 and Nicoll went to Washington, DC, as his administrative assistant, continuing in that post until December 1960, the end of Congressman Coffin's second term. Mr. Coffin ran for governor in 1960 and was defeated. After the election Senator Edmund S. Muskie asked Nicoll to join his staff as legislative assistant and news secretary. Nicoll served in that position until 1962, when he became administrative assistant. He continued in that post until 1971, when he became personal advisor to Senator Muskie. He left the senate office in mid-1972.
From 1972 until his retirement in 2005 Nicoll worked as a program and policy planner, first as a consultant (1972-73), then as chairman and chief executive officer of the New England Land Grant Universities Joint Operations Committee (1973-1975), then as coordinator of planning and vice president for planning and public affairs for the Maine Medical Center (1975-1986), then as a consultant (1986-2005). His clients were primarily in the non-profit sector and included, universities, libraries, education associations, health care organizations and social service agencies. He also worked as a volunteer, heading a variety of public policy projects, including the Maine Task Force on Government Reorganization, the Maine State Compensation Commission, the Maine (Mental Health) Systems Assessment Commission, the Maine Consortium for Health Professions Education, the Southern Maine Community Television Consortium, the Maine Special Commission on Government Reorganization (co-chair), the Board of Visitors of the University of Southern Maine's Edmund S. Muskie School of Public Service, the Maine-Aomori Sister-State Advisory Council and the Governor's Allagash Wilderness Waterway Working Group.
From 1998-2005, Don Nicoll was the Director of the Edmund S. Muskie Oral History Project at Bates College.
Use Restrictions
Copyright Bates College. This transcript is provided for individual Research Purposes Only; for all other uses, including publication, reproduction and quotation beyond fair use, permission must be obtained in writing from: The Edmund S. Muskie Archives and Special Collections Library, Bates College, 70 Campus Avenue, Lewiston, Maine 04240-6018.
Recommended Citation
Beam, Chris, "Coffin, Frank Morey, Shep Lee, Edmund S. Muskie and Don Nicoll oral history interview" (1991). Edmund S. Muskie Oral History Collection. 92.
https://scarab.bates.edu/muskie_oh/92