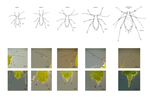 Collaborator(s)
Bates College Department of Biology
Daisy Diamond, Class of 2019
Daniel Levitis, PhD, Visiting Assistant Professor of Biology
Abstract
We provide a dichotomous key, with photographs and illustrations, for distinguishing between instars of the pea aphid (Acyrthosiphon pisum) in the developmental pathway leading to the apterous parthenogenetic adult. Lengths of body, antenna and cauda are provided for a sample of each instar.
Files
Keywords
aphid development, nymphal stages, identification key, wingless aphid instars, Acyrthosiphon pisum, pea aphid
Creative Commons License


This work is licensed under a Creative Commons Attribution-Share Alike 4.0 International License.
Funding Source(s)
Bates Faculty Development Fund grant to D. L.
Portions of this work were completed in the Bates College Imaging and Computing Center which was established with support from the National Institute of General Medical Sciences of the National Institutes of Health (P20 GM-­‐103423).
Citation Information
Bates College Department of Biology; Diamond, Daisy; and Levitis, Daniel, "Dichotomous Key to Pea Aphid (Acyrthosiphon pisum) Apterous Parthenogenic Instars" (2016). SCARAB Data Repository. 1.
https://scarab.bates.edu/datasets/1
Publication Date
7-18-2016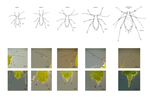 Open Access
Available to all.
COinS