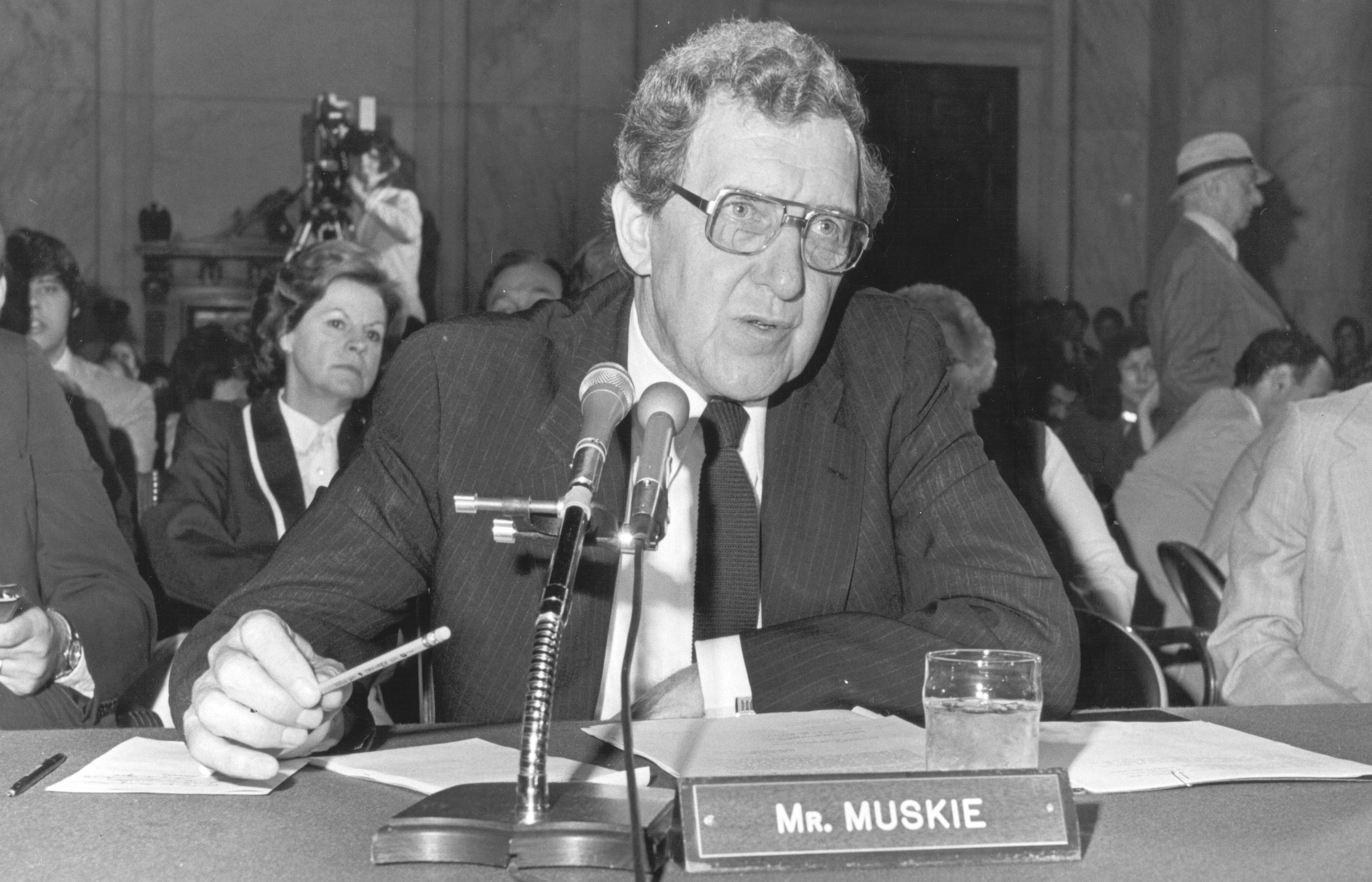 The Edmund S. Muskie Oral History Collection is composed of more than 400 interviews with individuals who knew, affected, or were affected by Senator Edmund S. Muskie in the course of his life and career. A native of Rumford, Maine, and member of the Bates class of 1936, Muskie went on to become Maine governor, U.S. senator, U.S. secretary of state and a candidate for the White House.
Interviews were primarily conducted between 1998 and 2007 by Don Nicoll, Andrea L'Hommedieu, and other project staff as part of the Muskie Oral History Project, one of the largest and most comprehensive oral history projects ever undertaken of a modern political figure. Interviewees include Senator Muskie's childhood friends and acquaintances, college contemporaries, Maine legislators, political associates and competitors, reporters and editors, campaign supporters, gubernatorial and Senate office staff, Senate colleagues and committee staff members, public agency officials, lobbyists, State Department officials, foreign policy specialists, law practice associates, public policy advocates, citizens associated with Senator Muskie in a variety of programs, and friends. Opinions and topics vary broadly, collectively providing a multifaceted and nuanced picture of Muskie's contributions to Maine, to the United States, and to the world.
Each interview is documented with a transcript and summary information, containing biographical information about the interviewee and an abstract of the interview. For more information about the collection, please see the Muskie Oral History Collection finding aid. Funding for the creation, processing, and online publication of the Muskie Oral History Collection was generously provided by the Edmund S. Muskie Foundation.
The Muskie Oral History project was the recipient of the Oral History Association's 2008 Elizabeth B. Mason Major Project Award, for outstanding use of oral history.
Oral Histories
Newsom, David oral history interview, Don Nicoll
Nicoll, Don oral history interview, Chris Beam
Nicoll, Don oral history interview, Chris Beam
Nicoll, Don oral history interview, Chris Beam
Nicoll, Don oral history interview, Paul Brunetti
Nicoll, Don oral history interview, Andrea L'Hommedieu
Nicoll, Don oral history interview, Andrea L'Hommedieu
Nicoll, Don oral history interview, Andrea L'Hommedieu
Nicoll, Don oral history interview, Andrea L'Hommedieu
Nicoll, Don oral history interview, Andrea L'Hommedieu
Nicoll, Don oral history interview, Andrea L'Hommedieu
Nicoll, Don oral history interview, Andrea L'Hommedieu
Nicoll, Don oral history interview, Andrea L'Hommedieu
Nicoll, Don oral history interview, Andrea L'Hommedieu
Nicoll, Don oral history interview, Andrea L'Hommedieu
Nicoll, Don oral history interview, Jeremy Robitaille
Nicoll, Don oral history interview, Jeremy Robitaille
Nicoll, Don oral history interview, Henry Sirgo
Niven, Campbell oral history interview, Nicholas Christie
Nute, Alice oral history interview, Marisa Burnham-Bestor
Nute, Alice oral history interview, Don Nicoll and Marisa Burnham-Bestor
Nutter, Fred oral history interview, Don Nicoll
Oberdorfer, Don oral history interview, Don Nicoll
O'Brien, Jadine oral history interview, Greg Beam
O'Brien, John "Jack" oral history interview, Greg Beam
O'Connor, Jane Frances oral history interview, Don Nicoll
O'Leary, Charles J. "Chick" oral history interview, Greg Beam
O'Leary, John oral history interview, Don Nicoll
Orestis, John oral history interview, Mike Richard
Pachios, Harold oral history interview, Mike Richard
Palmer, Linwood E. oral history interview, Stuart O'Brien
Parker, Richard Barron oral history interview, Don Nicoll
Parmelee, Carole oral history interview, Don Nicoll
Parmelee, Carole oral history interview, Don Nicoll
Paulson, Carmelle and Richard oral history interview, Nicholas Christie
Pease, Allen and Violet "Vi" oral history interview, Nicholas Christie
Pease, Allen and Violet "Vi" oral history interview, Andrea L'Hommedieu
Peillet, Charles oral history interview, Andrea L'Hommedieu
Pendexter, Faunce oral history interview, Meredith Gethin-Jones
Pert, Edwin H. oral history interview, Stuart O'Brien and Rob Chavira
Piccone, Robert oral history interview, Andrea L'Hommedieu
Plante, Jerry oral history interview, Mike Richard
Platt, Alan Arthur oral history interview, Don Nicoll
Podesta, Anthony "Tony" oral history interview, Don Nicoll
Pontbriand, Fern oral history interview, Andrea L'Hommedieu
Poulin, James E. oral history interview, Marisa Burnham-Bestor
Pringle, Anne oral history interview, Don Nicoll
Puiia, Vito oral history interview, Jim Ross
Ransome, Lorelei oral history interview, Don Nicoll
Rasenberger, Raymond J. "Ray" oral history interview, Don Nicoll
Raymond, Ann oral history interview, Andrea L'Hommedieu
Raymond, Larry oral history interview, Mike Richard
Reed, Carlton "Bud" oral history interview, Marisa Burnham-Bestor
Reed, John H. oral history interview, Don Nicoll
Richardson, Harrison oral history interview, Greg Beam
Rines, Brian oral history interview, Jeremy Robitaille
Rines, Catherine (Kincaid) oral history interview, Andrea L'Hommedieu
Roach, Arnold oral history interview, Andrea L'Hommedieu
Roberts, Gwil oral history interview, Andrea L'Hommedieu
Rocheleau, Bill oral history interview, Stuart O'Brien
Rolde, Neil oral history interview, Robert Ruttmann
Sadik, Marvin oral history interview, Mike Richard
Sampson, Richard oral history interview, Meredith Gethin-Jones and Marisa Burnham-Bestor
Sando, Jack oral history interview, Don Nicoll
Saulter, Leonard oral history interview, Mike Richard
Saunders, Harold "Hal" oral history interview, Don Nicoll
Scheiber, Walter A. oral history interview, Don Nicoll
Schlick, Edward C. oral history interview, Stuart O'Brien and Rob Chavira
Schoenberger, Maralyn oral history interview, Andrea L'Hommedieu
Schoenthaler, Jim oral history interview, Mike Richard
Schuler, Karen oral history interview, Andrea L'Hommedieu
Scolnik, Louis oral history interview, Marisa Burnham-Bestor
Scott, Betty Winston oral history interview, Don Nicoll
Scowcroft, Brent oral history interview, Don Nicoll
Shapiro, Sam oral history interview, Andrea L'Hommedieu
Shaw, Robert C. "Bob" oral history interview, Andrea L'Hommedieu
Shepherd, Bob oral history interview, Andrea L'Hommedieu
Shettleworth, Earle G., Jr. oral history interview, Don Nicoll
Shevis, Estelle "Stell" and William "Shev" oral history interview, Andrea L'Hommedieu
Sinclair, Andrew McInnes oral history interview, Mike Richard
Smith, David C. oral history interview, Andrea L'Hommedieu
Smith, Joan oral history interview, Andrea L'Hommedieu
Smith, Stanton B. oral history interview, Nicholas Christie
Smith, William J. "Bill" oral history interview, Andrea L'Hommedieu
Snow, Roger Vinton, Jr. oral history interview, Don Nicoll and Mike Richard
Spiegel, Jack oral history interview, Andrea L'Hommedieu
Stafford, Robert T. oral history interview, Don Nicoll
Stedman, Dixie (Moore) oral history interview, Andrea L'Hommedieu
Steinbruner, Maureen oral history interview, Don Nicoll
Stetson, Damon oral history interview, Erik Remsen
Stevens, Marianne oral history interview, Andrea L'Hommedieu
Storer, Elaine (Swanholm) Clinton Shortall oral history interview, Andrea L'Hommedieu
Stover, Dolores oral history interview, Don Nicoll
Strauss, Robert S. oral history interview, Don Nicoll
Stuart, Lawrence oral history interview, Don Nicoll and Sarah Terwilliger
Sturbitts, Charlene oral history interview, Don Nicoll
Sturbitts, Charlene oral history interview, Don Nicoll
Sweet, Paul oral history interview, Chris L'Hommedieu
Talbot, Gerald "Gerry" oral history interview, Jeremy Robitaille
Thurston, Murray oral history interview, Nicholas Christie